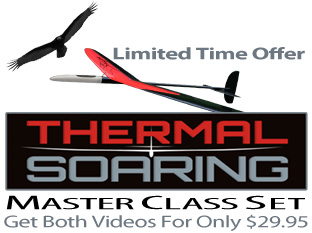 *If you want the DVD disk editions of this thermal soaring training set, please click here.
For a limited time, get both of the digital editions of our new Thermal Soaring Master Class video training programs at the special price of only $29.95. Both of these 2+ hour long highly detailed video programs will teach you all about advanced thermal meteorology, air reading, thermal prediciton, tuning and flying techniques. This set is simply the best soaring video class available on the deeper aspects of air calling and thermal soaring.
For more information on the Thermal Soaring Master Class taught by thermal pro Paul Naton, click here. For more information on the Thermal Soaring Master Class#2 video, click here.
Topics Covered
• Micrometeorology • Convection & Lapse Rates • Thermal Shapes • Thermal Visualizations • Wind Shift Thermal Locating • Thermal Search Patterns • Ground Signs • Bank Angles & Circling Technique • Wind and Thermal Patterns • Tuning • And more . . .
You can also order this download through our toll free line, 888-834-2261, M-F, 10am-5pm EST, and we will be happy to take your order information or answer questions. You can use any major credit card and Paypal for your purchases.
What You Get: The high quality downloadable version of these training programs are in the universal .mp4 video format viewable on all digital devices. (file size 3 gb) This digital product has a full money-back guarantee. Total Runtime: About 4.7 hours
How do I get my downloads?
For detailed instructions on how to use the links and download and view the video files, please visit and read our detailed Download Instruction Page HERE.
NOTE: It is recommended that you download first to a desktop or laptop computer with a fast internet connection first, then transfer the video files to your Ipad, Iphone, or Android device for viewing. IOS and Android devices can only open .zip folders with a helper application, see information below.
1. Select the titles of the download videos you want, add them to your cart, and then check out and pay like with any other product purchase. If you check out and create an account (recommended) then the PDF file download containing your video links will be available instantly after your payment is confirmed and completed. If you check out as a Guest, your PDF file link will included in your order confirmation e-mail that you will get in a few minutes or so. Each video title you purchase will have it's own PDF file containing your unique download links. If you order a download set, the single PDF file will have all of the unique links for each video of the set.
2. Click the unique link in the PDF, the link is active and clickable in your PDF file. If the link does not activate, just cut and paste this link directly into your browser address window and hit enter. Your unique download links are good for about 72 hours so get your files as soon as possible.
• Once this link is clicked and activated, your browser will then go to our video file server and start to download a folder to your computer or device which contains both files Part 1 and Part 2 of the program you have purchased. The link you will see in your browser address window when downloading should look like this: https://s3.amazonaws.com/radcarart/secretsr6.zip
• The folder that you are downloading is in the .zip format, this format helps speed downloading. Remember, each video program is a lot of data, and will take a while to download even on high speed internet connections. This video program is about 750 megabytes in size.
• Once the download is completed, your computer should automatically open and uncompress the .zip folder and its contents, making a folder with the two video .mp4 files in your downloads folder or location where you store downloaded content.
• The high quality .mp4 video files can be viewed in any application that plays digital media content. You should be able to just double click the video file to start it playing in your default media player or open it from your media player application like Itunes, Quicktime, Windows Media Player and other apps. You can also transfer the video files to your phone or tablet for portable viewing.
• If you need to download, open and view the video files from your IOS or Android phone or tablet, get the application WinZip, which will decompress and open the .zip folder contents so you can then save and view the videos. WinZip is available free at the Apple App Store or at the Google Play App store.
Our videos are free of any Digital Rights restrictions so you can view them on any device you own. Your video downloads are for personal use only, please do not share the links or files with others, I really don't want to have to add copy protection in the future.
If you have any trouble downloading or viewing your video files, please e-mail us with your problem. You can read more about downloading the video files at our Download Help Page.