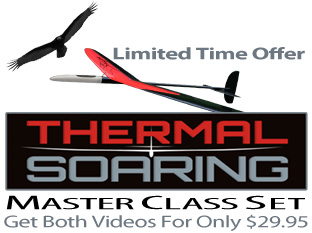 For a limited time, get both of the Digital Download or DVD editions of our new Thermal Soaring Master Class video training programs at the special price of only $29.95. Both of these 2 hour long highly detailed video programs will teach you all about advanced thermal meteorology, air reading, thermal prediciton, tuning and flying techniques. This set is simply the best soaring video class available on the deeper aspects of air calling and thermal soaring technique.
Click Here to order the Digital Download Set. Click Here to order the DVD Set.
For more information on or to buy the first Thermal Soaring Master Class, click here.
For more information on or to buy the second Thermal Soaring Master Class#2 video, click here.
Topics Covered
• Micrometeorology • Convection & Lapse Rates • Thermal Shapes • Thermal Visualizations • Wind Shift Thermal Locating • Thermal Search Patterns • Ground Signs • Bank Angles & Circling Technique • Wind and Thermal Patterns • Tuning • And much more . . .